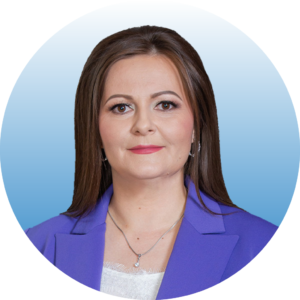 Former member of the Parliament of Kyrgyzstan. Member of the socialist party "Ata meken" since 2010.
Natalia was a member of the Parliament of the Kyrgyz Republic from 2010 till 2022. She was a chairperson of two Kyrgyz Parliament's Committees:
Chair of the Committee on law enforcement, fighting corruption and combating crime, 2018-December 2021 (including amendments to both Criminal and Administrative Codes, including on drug issues. She also worked on reform of penitentiary system in Kyrgyzstan). 

Member of the Committee on social issues, education, healthcare, 2015-2018. 

Chair of the Committee on constitutional legislation, human rights and state governance, 2014-2015 (human rights of vulnerable groups were among other issues as well).
Natalia also is a civil activist defending human rights and democratic freedoms and values, gender equality. 
As a Member of the Parliament and public activist she works against gender violence, initiated laws for protecting women's and children's rights, supports vulnerable groups' rights.  Natalia was a member of the Women Parliamentarian Forum for 11 years. 
Natalia has 10-year experience of heading public organizations working with efficient management and proficiency in higher education in Central Asia and Kyrgyzstan. As a director of Association of higher educational institutions in Central Asia EdNet she was leading reforms and new approaches in quality management in education sector. 
She has specialized knowledge in state governance, parliamentarian procedures, legislation and normative development, parliamentary work and procedures, gender expertise and analysis, research and surveys, legislation and policy development, election legislation expertise, including gender representation analysis, monitoring and evaluation, education quality assurance, project management, NGO management and international cooperation.